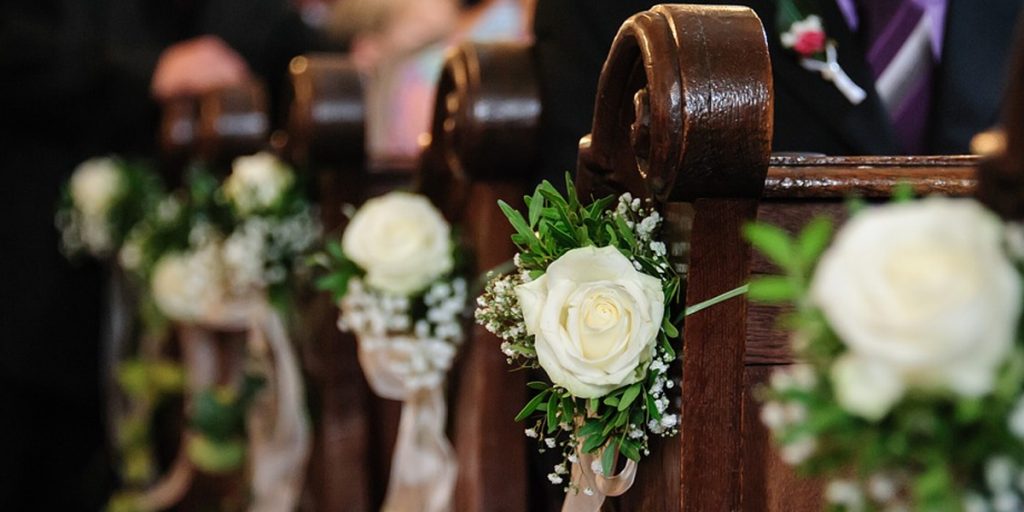 Congratulations!
May you be blessed in your married life and live a long and happy life together.
The following information pack is intended to help you prepare for and plan your marriage ceremony in our parish.
Your marriage is a Sacrament that you have chosen to celebrate it in a sacred religious setting according to the rites and traditions of the Catholic Church.
In the Republic of Ireland a religious marriage can also be recognised as a Civil Marriage by the State when certain legal requirements have been met.
This information pack outlines the requirements that the Catholic Church requires for a marriage to be validly and legally celebrated. There are also practical guidelines and requirements for our parish churches.
We hope it will assist you and that your wedding day will be a day of blessings for you.
The Catholic Church has certain requirements that must be met before a marriage can be celebrated.
N.B.
Bookings of weddings are provisional until all of these requirements have been met.
All documentation should be completed and in the parish office at least eight weeks before the date of the wedding.
Requirements
Give at least three months notice to the priest where the marriage is to be celebrated.
Produce recently issued Baptismal and Confirmation Certificates.
Fill a Pre-Nuptial Enquiry Form with the priest, preferably in the parish where you are now living.
Establish your freedom to marry.
This can be done by getting a 'Letter of Freedom' from the parishes where you lived for more than six months as adults.
or
A 'Statement of Freedom to Marry' may be made by parents or siblings and attested to before a priest.
or
you may make a Statutory declaration by swearing an 'Affidavit' before a Commissioner of Oaths or Solicitor asserting that you have never married. If you live outside of Ireland you will have to swear an affidavit asserting that you have never married.
Produce a Certificate of Attendance at a Marriage Preparation Course.
If one of the parties is not a baptised catholic the catholic party will need to be granted a 'dispensation' by the bishop. All other documentation must be completed before this can be done.
Unless you have been resident in Louisburgh Parish for all of your life, and never lived anywhere else, the preferred method of establishing your freedom to marry is by signed affidavit.
Marriage Preparation Course
All couples planning to marry in the Catholic Church in Ireland are required to attend a recognised Marriage Preparation Course.
Marriage Preparation courses offer couples an opportunity to explore aspects of their marriage relationship with each other.
Issues of communication, commitment, conflict resolution, children and spirituality are covered.
Availability
Places are limited on most courses so it is advisable to book early.
Ideally your Marriage Preparation Course should be booked the same time you book the Church.
Marriage Preparation Courses:
Accord Castlebar, 34B Moneen Road, Castlebar, Co. Mayo 094 902 2214
Accord National Booking: Mount Argus:
Milltown Park:
www.accord.ie 01 505 3112
www.together.ie
www.jesuitmarriage.com
Civil Legal Requirements, Republic of Ireland, for Catholic Marriages
As soon as you arrange the date of your marriage with the priest contact the Civil Registrar who will advise of all civil requirements.
Contact:
Civil Registration Service,
St. Mary's Headquarters,
Mayo General Hospital Campus, Castlebar, Co. Mayo. Phone 094 902 3249
or
25 Newcastle Road, Galway. Phone 091 546216 or 091 546277
or
Civil Registration Service, Joyce House, 8/11 Lombard Street East, Dublin 2 01 863 8200
Irish citizens must be over eighteen (18) years of age in order to validly marry. Notification of intention to marry will have to be given in person to a Registrar at least three months before the date of the wedding.
All couples must sign declarations of no impediment and obtain a Marriage Registration Form (MRF) from a Registrar in advance of the ceremony.
It is the couple's responsibility to return this form after their wedding to register their marriage.
A Register of Solemnisers of Marriage is maintained by the General Register Office.
To have a priest relative or friend who is not on this list solemnise your marriage he must be named as a temporary Solemniser. To do so he must contact the Archbishop's office in Tuam, Co. Galway at least eight weeks before the wedding.
All couples must make a verbal declaration, in front of their two witnesses and the solemniser, of there being no civil impediment to their marriage.
This declaration is to be made no more than two days before the wedding.
It is the preferred practice in Louisburgh parish to make this declaration as part of the ceremony so that it will not be overlooked.
Useful Information
Please ensure that you have booked the Church before making other arrangements.
The Ceremony
Keep in mind that you have chosen to celebrate your marriage according to Catholic rites and tradition.
A Catholic marriage normally takes place in a recognised and functioning parish church.
The Catholic wedding ceremony can take place within or apart from the celebration of the Eucharist. You are free to choose.
You will discuss the details of your ceremony with the priest or deacon who will celebrate the ceremony for you.
Did you know: Many assumed 'traditions' as part of the ceremony are optional extras. e.g. The walk by the bride up the aisle with her father is not the only way to commence the ceremony. In fact some choose not to do so any more because of the connotations of a past where marriage was more to do with a business arrangement between two families rather than a romantic relationship and commitment of bride and groom.
Some brides now choose to walk up with both parents, others are now choosing to meet the groom at the door of the church and both then walk up together. Such choices are yours to make. Don't feel bound to 'made up' traditions.
Likewise with lighting a wedding candle, this would have been unknown in Ireland fifty years ago.
Please discuss with the priest the type of ceremony you would like, keeping in mind you have chosen a marriage ceremony in accordance with Catholic traditions and rites.
Useful sources of information http://www.accord.ie/resources/links http://together.ie
Day and Time of Weddings
In Louisburgh Parish marriages can be celebrated any day, Monday to Saturday. It is policy that Marriages are not celebrated in Louisburgh Parish on Sundays or Holydays. As of November 2022 it is also Diocesan policy in Tuam Archdiocese that the Sacrament of Marriage is not celebrated on a Sunday.
Please arrange your marriage ceremony for the time you wish to have your ceremony start and invite people for that time.
Set the time for your wedding that suits you and your guests. Remember, some of your guests may have to travel long distances.
The parish will be as flexible as possible regarding the time.
Suggestion: Consider a later starting time; ask yourself, is there any benefit to you or your guests by having a delay of four or five hours between your ceremony and your wedding meal? Please be ready to have your ceremony start at the time you have arranged. How do you feel if you are left sitting, waiting for someone for a long period and they don't bother to show up at the time that they arranged?
Please arrange the time for your ceremony giving yourself and guests ample opportunity to get to the church, taking into account all necessary preparations. If you are arranging to have photographs taken prior to your wedding please add on extra time to do so.
Be aware that there may be other ceremonies arranged for the Church prior to and following your marriage and the priest may have other duties and appointments following the wedding.
Celebrant of the Wedding Ceremony
If you are a parishioner it is usually the parish priest who will be the celebrant. In his absence he will arrange to have another priest perform the ceremony.
You are free to invite a priest or deacon who is a friend or relative to be the celebrant. Please note the requirement that he is listed on the Register of Solemnisers of Marriage that is maintained by the General Register Office and he will require to be legally 'delegated' to perform the ceremony by the parish priest.
If you are not a parishioner please note that you will have to make your own arrangements to supply a priest to perform your ceremony if you wish to use one of our churches for your ceremony.
Florists and decorators:
Any person planning to place flowers or decorations in the Church must contact and meet with the sacristan beforehand. This will prevent confusion or disappointment on the day about what is possible.
Killeen: Vivien Gibbons, 087 697 5400
Louisburgh: Mary O Toole, 087 288 1971
We are as flexible as possible but remember that the church is a sacred place and the safety of the congregation is paramount.
Church furnishings, e.g. Altar, Baptismal Font, Tabernacle, etc. have particular symbolism and functions in catholic churches and in liturgical celebrations and should not be seen as 'handy' places to situate flowers etc.
The altar in particular should not be obscured by large floral arrangements surrounding wedding candles.
For health and safety reasons, apart from the Wedding Candles, lighted candles cannot be placed anywhere in the Church.
If you wish to have some candles as decorations there are very good battery operated candles available.
In the past carpets, walls and paintwork have been damaged and we have had too many near misses with lighted candles falling over and lighted material falling on people; also the effort required to clean up candle grease following weddings is often excessively time consuming and it does leave permanent marks on the carpet.
For health and safety reasons 'red carpets' or other types of floor coverings cannot be placed in the church.
'Decorations' cannot be placed where they cause any obstruction to aisles or seats or to the easy entrance and exit of the church in the event of an emergency.
Any person bringing any sort of equipment into the church is required to have their own public liability insurance. A certificate must be produced.
Musicians and Singers
Marriage is the celebration of a Sacrament, in a sacred place and in a religious ceremony, and that the music and hymns you choose should be appropriate for a sacred occasion and place.
Both churches in Louisburgh Parish have very good audio systems that are adjusted for the individual nature of the church buildings.
Amplifiers and extra speakers are not needed by singers or musicians and experience shows that they are not tuned to the acoustics of the churches. Such equipment is often visually obtrusive and spoils the decor of the church and usually adds volume rather than clarity of sound.
No equipment of any sort may be placed in the sanctuary without express permission.
Any person bringing any sort of equipment into the church is required to have their own public liability insurance. A certificate must be produced.
Photography At Weddings
Photographers are welcome to take photos to record your ceremony for you. The vast majority are very professional, discreet, and unobtrusive in going about their task in the church during the ceremony.
If you wish to have pictures taken before you arrive at the church for the ceremony ample time must be allowed in order not to delay the ceremony and discommode everyone by having the ceremony delayed beyond the agreed starting time.
A suggestion: you have invited scores, if not hundreds, of people to your wedding ceremony and celebration. Why not spend your important day with friends and family instead of hours travelling the countryside with a photographer searching for the perfect scenic photo! Give serious consideration to having a separate day for such a photo shoot if it is important to you.
Costs
In the Archdiocese of Tuam priests do not request payment on the occasion of Marriage.
A donation may be made to the sacristan, if you so wish.
For non-parishioners, a fee of €250 is requested for parish funds to assist in the upkeep, cleaning, heating, lighting and insurance of the Church.
Check List
Minimum Three months notice to church
Minimum Three months notice to civil registration service Baptismal and confirmation certs obtained
Pre-nuptial Enquiry form filled with a priest
Freedom to Marry established
Marriage Preparation course attended
and if one of the parties is not a baptised catholic
Dispensation granted by Bishop
N.B. Until all the above requirements have been met the wedding booking is provisional.
All documents should be completed not less than eight weeks before the wedding date.
Give information sheets to; Photographer / Video Operator Florist / Decorator
Musicians / Singers
Sample
Statutory Declaration
I,                 , being eighteen years of age and upwards do solemnly and sincerely declare as follows:
1. I am engaged to be married to.
2. Since attaining the age of eighteen I have resided at the following addresses
I am not and never have been married under the law of this or any other Civil or Religious Jurisdiction, nor have I ever gone through a ceremony of Marriage.
3. I make this Solemn Declaration conscientiously believing the same to be true by virtue of the Statutory Declarations Act, 1938.
________________________ Signature
Declared by
on this date
Before me a Commissioner for Oaths / Solicitor
________________________ Signature
Commissioner for Oaths / Solicitor
Prayer while preparing for Marriage
Lord God,
Source of all love,
your providence has brought us together.
As we prepare for the sacrament of marriage
we pray for your grace,
that, strengthened by your blessing,
we may grow in respect for one another
and cherish each other with a sincere love.
We ask this through Christ our Lord. Amen.
May the God of love and peace abide in us,
guide our steps,
and confirm our hearts in his love, now and for ever.
Amen.